Discover a newfound freedom and desire to further explore and engage in the things you love. From outdoor adventures to indoor activities, Model Ci will complement your every move.
Simple disassembly for transport
Smart Key available
Ergonomic controls
State-of-the-art Bluetooth connectivity – control with iPhone or Android app
Amazing stability for safety
Superior traction and suspension
Onboard storage including under seat mesh basket
Turning Radius: 29.90″
Top Speed: 5.00 mph
Heaviest Piece: 43.3 lbs.
Battery Charge Distance: 10.00 miles
Weight capacity: 250 lbs.
Weight: 115 lbs.
The Go Chair® is #1 for portability! With feather-touch disassembly, you can take your Go Chair to all your favorite places and enjoy greater independence.
300 lbs. weight capacity
Up to 3.7 mph maximum speed
25.5″ turning radius
8.7 miles per charge at 300 lbs., 13.2 miles per charge at 200 lbs.
Feather-touch disassembly 
Your choice of six colors
Heaviest piece is only 36 lbs.
60″ lap belt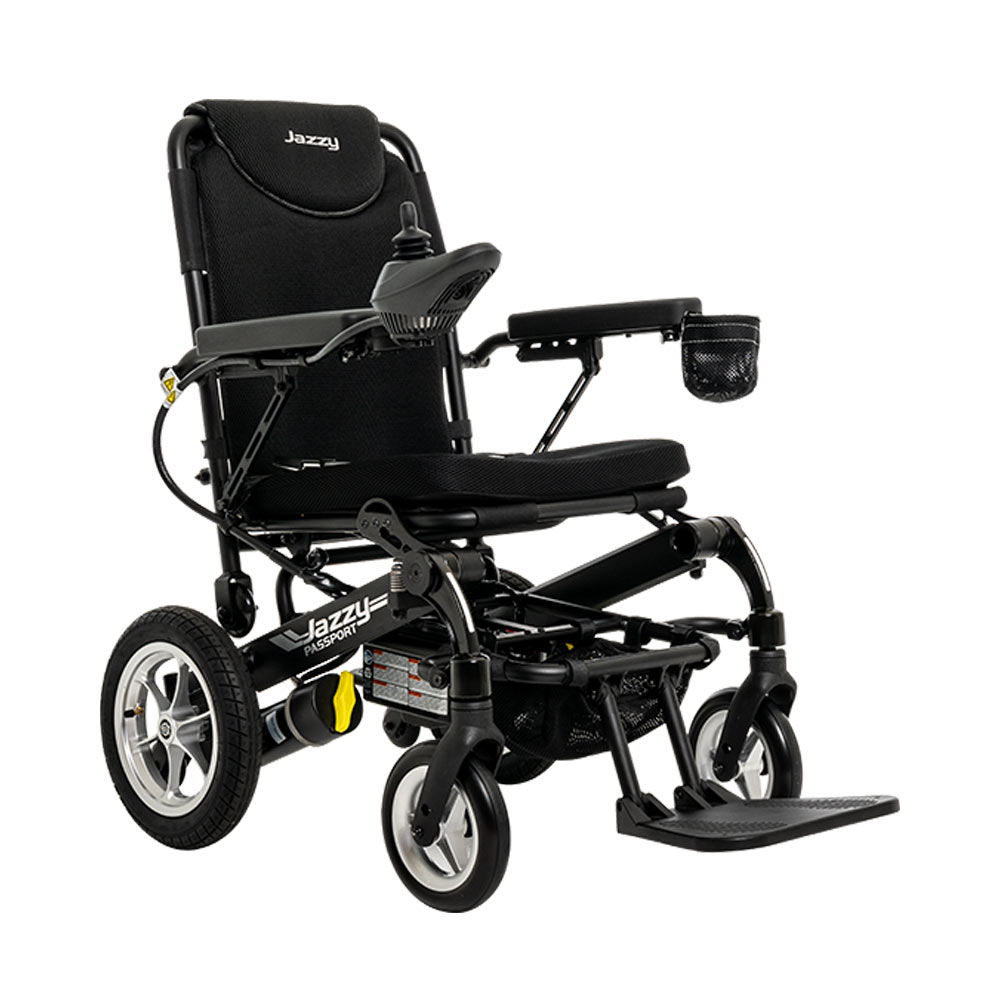 The Jazzy Passport is a power wheelchair designed with travel in mind. Weighing just 60 pounds, this power chair folds in half in just a few steps. This innovative power chair gives you the freedom to travel without having to worry about vehicle lifts, heavy equipment, or disassembling a scooter into pieces each time you need to get into a vehicle.
250 lbs. weight capacity
Up to 3.6 mph maximum speed
24.25″ turning radius
9.6 miles per charge at 250 lbs., 11 miles per charge at 200 lbs.
Easy-access free-wheel lever
A compact and lightweight design makes traveling a breeze
Folds in just a few simple steps for effortless transport
Includes convenient, under seat mesh storage bag, mesh cup holder and 40" lap belt
Available with a 10.4 AH or 18 AH lithium ion air safe travel battery** (**Check with your airline before flying)
The world's lightest, most portable and maneuverable power chair is the LiteRider Envy! The LiteRider Envy can be disassembled in just seconds to easily fit in the trunk of virtually any car.
Unique, under seat storage basket standard
Tubular frame design
Your choice of 5 colors
Comfortable, full size stadium style seat
300 lb. weight capacity
Two 22Ah batteries (Now Standard)
Operating Range: Up to 15.5 miles
Turning Radius: 26″
Top speed: 3.5 mph