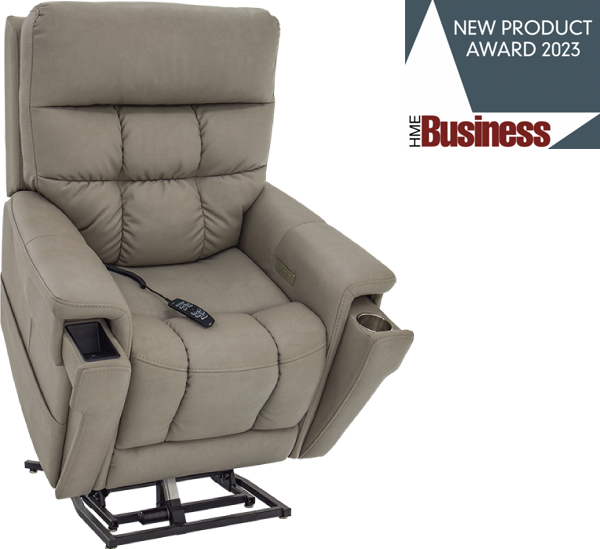 ULTRA 
400 lb. weight capacity
New! Exclusive VivaLift!® Tilt reclines the lift chair into a recline position where one's knees are elevated above your heart, providing the feeling of weightlessness
New! Advanced massage system with a touch of a button provides gentle pressure to your lower back for a soothing massage with three intensity settings
Heat System with three conveniently located heat pads in the shoulders, lumbar and seat regions of the chair with three heat levels
Easily accessible heat and massage buttons on the inside of the armrest
Ergonomically designed toggle remote
True-infinite positioning enables the backrest and footrest to move independently from one another so that a variety of positions can be reached
Hideaway wireless charging station conveniently charges your phone
Hideaway cup holder keeps your beverage close at hand
The power headrest lifts your head, neck, and shoulders for maximum support
The upward lift offers convenient stand assist for getting in and out of the recliner
The power lumbar enables you to personalize you comfort
The footrest extension allows you to relax and stretch out completely
The backrest moves up and down independently to help you find the perfect position
Lithium battery backup ensures your recliner is operational when the power goes out
RADIANCE 
Experience warming luxury and power recliner comfort.
Muscle tightness melts away in the warming comfort of the VivaLift!® Radiance Power Recliner. The Radiance Collection is the first in its class to offer three heating pads, and with the VivaLift! true infinite positioning, you can take your relaxation experience to the next level.
400 lb. weight capacity
New! Heat System with three conveniently located heat pads in the shoulders, lumbar and seat regions of the chair
New! Ergonomically designed toggle remote
New! True-infinite positioning enables the backrest and footrest to move independently from one another so that a variety of positions can be reached

The power headrest lifts your head, neck, and shoulders for maximum support

The upward lift offers convenient stand assist for getting in and out of the recliner

The footrest extension allows you to relax and stretch out completely

The backrest moves up and down independently to help you find the perfect position
Lithium battery backup ensures your recliner is operational when the power goes out
The Atlas Plus is a 4-motor recliner with countless position combinations. Enjoy the luxury of infinite lay-flat positioning. In addition to the stow-away cup holder, the Atlas Plus has a hide-away smart phone charging station that is wireless and compatible with most smart phones.
Power headrest
Power lumbar
USB remote with soft-touch buttons
Lithium battery backup
Footrest extension
Power backrest
Wireless charging station
Hideaway cup holder
A truly elegant, sophisticated recliner is more than just physically alluring: It's the precise combination of function, style and comfort. The Elegance Collection from VivaLift!® Power Recliners is all of these and more, providing a cozy place to relax with your family. The soft fabric and contrast stitching makes this recliner a perfect addition to your home.
Power Headrest
Power Lumbar
USB Remote
Lithium Battery Backup
Footrest Extension
Power Backrest
There is no greater joy than reading a good book in a comfortable, cozy recliner. The Tranquil Collection by VivaLift!® Power Recliners combines quiet comfort with gorgeous fabrics, for a rich and upscale look. Get the support you need for your neck, shoulders and lower back as you dive into your favorite story. The Tranquil Collection exudes style and class with contrast stitching. It's the perfect addition to your home.
Power headrest
Power backrest
Power lumbar
USB remote with soft-touch buttons
Lithium battery backup
Footrest extension
Embrace the serenity of a quiet corner in your home with a cozy, luxurious recliner. Take time for yourself with the Legacy Collection from VivaLift!®. Put your feet up and fully stretch out on the footrest extension. Enjoy a good novel or turn on the television. No matter what activity you choose, infinite, lay-flat positioning ensures you'll always find your most comfortable and supportive position. Plus, you'll never misplace your book or the remote with the convenient side storage pocket.
Power headrest
Power backrest
Power lumbar
USB remote with soft-touch buttons
Lithium battery backup
Footrest extension
Classic style meets exquisite comfort in Pride's Heritage Power Lift Recliners. These recliners offer plenty of leg room with the footrest extension. Choose from a variety of gorgeous, plush fabrics and make this recliner a part of your home!
Standard head & arm covers
Standard large dual pockets
USB remote with charger port
Quiet & smooth lift system
Heavy-duty lift actuator & scissor mechanism
Integrated battery backup in case of power failure
7-year prorated warranty
Great RENTAL option – call us for details (317) 660-5132
When it comes to the essentials of everyday life, never sacrifice your comfort. The Essential LC-105 Power Lift Recliner deliver exceptional comfort at a great value. Enjoy plenty of storage with dual pockets and find your perfect position with the simple hand control.
325 lbs. weight capacity
Quiet and smooth lift system
Fire retardant 
Standard, large dual pockets
Integrated battery backup in case of power failure
Energy-efficient power box with 9′ cord
Lifetime warranty on steel lift frame
1-year limited warranty
Great RENTAL option – call us for details (317) 660-5132